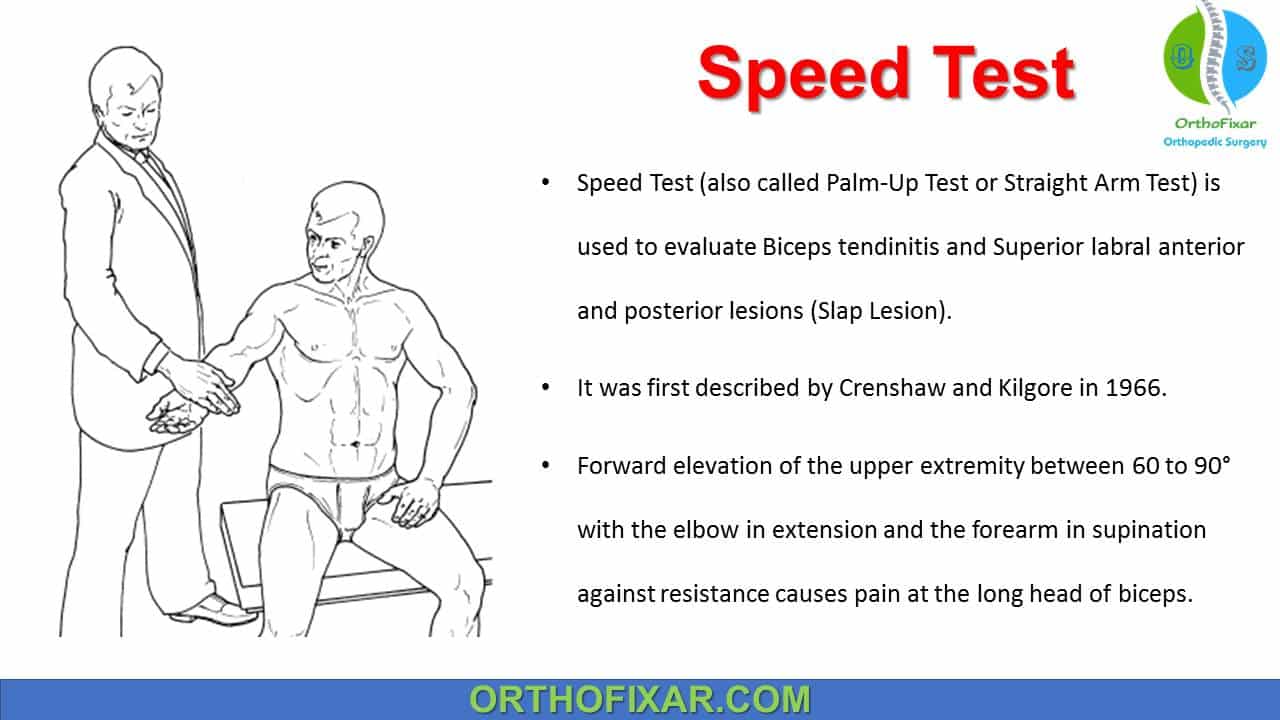 What is Speed Test?
Speed Test (also called Palm-Up Test or Straight Arm Test) is used to evaluate Biceps tendinitis and Superior labral anterior and posterior lesions (Slap Lesion).
It was first described by Crenshaw and Kilgore in 1966.
See Also: SLAP Lesion
---
How do you do the Speed Test of the Shoulder?
ًWith the patient in sitting or standing position.
The patient's arm is extended in supination at 90° of abduction and 30° of horizontal flexion.
The patient attempts to either maintain this position or continue to elevate and pronate the arm against the downward pressure of the examiner's hand.
Simultaneously, the examiner palpates the bicipital groove region with the other hand.
What does a positive Speed Test mean?
A side-to-side difference in the strength of elevation of the shoulder with pain in the bicipital groove region suggests pathology in the long head of the biceps such as tenosynovitis or subluxation.
If profound weakness is found on resisted supination, a second or third degree sprain of the biceps tendon should be suspected.
Sensitivity & Specificity
In an arthroscopic analysis that included biceps tendinitis and superior labral anterior and posterior lesions (Slap Lesion) as positive findings, Bennett found that the Speed test had a sensitivity and Specificity as following 1:
Sensitivity: 90 %

Specificity: 14 %
In a number of studies, the sensitivity of the Speed's test in biceps tendon disorders was found to be higher than that of the Yergason's test.
Because Speed's test has been shown to be highly sensitive but not specific to biceps pathology, it should be used as an aid in the evaluation of a bicipital lesion but not as diagnostic of such a lesion.
Reference
W F Bennett: Specificity of the Speed's test: arthroscopic technique for evaluating the biceps tendon at the level of the bicipital groove. Arthroscopy. Nov-Dec 1998;14(8):789-96. doi: 10.1016/s0749-8063(98)70012-x. PMID: 9848587.
Holtby R, Razmjou H. Accuracy of the Speed's and Yergason's tests in detecting biceps pathology and SLAP lesions: comparison with arthroscopic findings. Arthroscopy. 2004;20:231-236
Campbel's Operative Orthopaedics 13th Ed Book.
Clinical Tests for the Musculoskeletal System, Third Edition book.
Mark Dutton, Pt . Dutton's Orthopaedic Examination, Evaluation, And Intervention, 3rd Edition Book.
Millers Review of Orthopaedics, 7th Edition Book.
Share with Friends:

Related Tests
Load and Shift Test
The Load and Shift test is used to test for Anterior Instability of the shoulder.
Posterior Stress Test
Posterior Stress Test (or Posterior Apprehension sign) of the shoulder is used to test for Posterior Instability.
See Also: